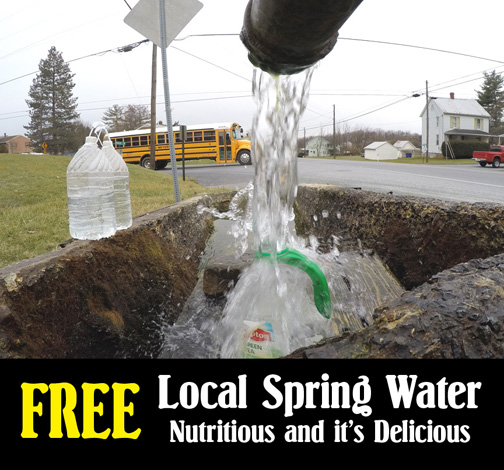 Upon arrival you may likely bump into locals filling up jugs and jars of all size and shape, and you may meet like minded visitors at these springs who have no problem driving an hour on the highway. Even though life is complicated, life can be as simple as calling up a friend and scheduling a scenic car trip this coming weekend. ENJOY LIFE... It's later than you think...!!!
Spout'n Spring, Frederick MD
9598 Hamburg Road, Frederick MD
Tomstown Spring, Waynesboro PA
7885 Mentzer Gap Rd, Waynesboro, PA
Berkeley Springs, Berkeley Springs WV
2 South Washington St., Berkeley Springs WV
(lightly chlorinated)
Two words of caution: Avoid all springs during heavy rainfall and the day after, and if you have a less than a normal immune system read the info on this link here.


Spout'n Spring, MD
9598 Hamburg Road, Frederick MD
You will find parking for 3 vehicles. The road has moderate traffic so be safe. About 100 yards west of this spring is a second fill up spring with parking for 2 cars. The spring pictured is the most consistant during dry weather. During my visit to this spring I met a family from Rockville and a couple who drove up from Silver Spring... both confirmed they have been drinking this water with zero complaint and highly recommend this spring water.
Detialed info on Spout'n Spring can be found at this page published by a neighbor who walks to the spring daily.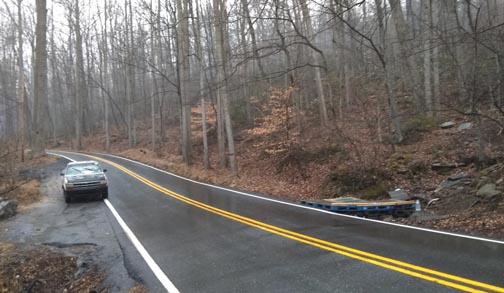 This is really a beautiful drive thru the mountains. The spring sits on the edge of the Frederick Municipal Forrest where you can hike and picnic as well while visiting the area. Five minutes south is the town of Frederick.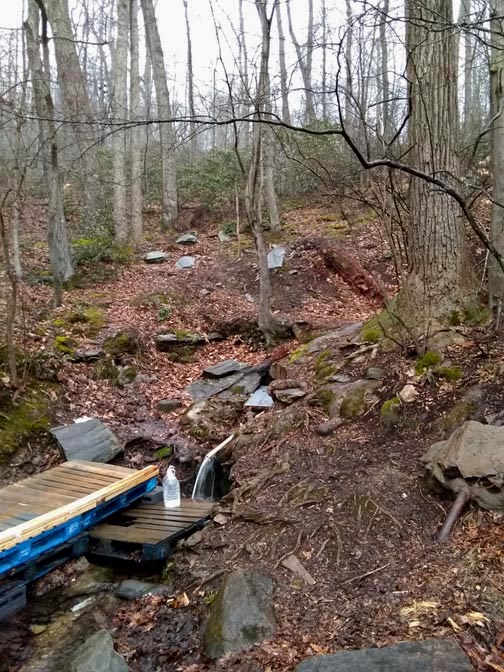 Tomstown Spring, PA
7885 Mentzer Gap Rd, Waynesboro, PA
As I was taking photos of this spring a line of customers began to form in the parking lot. I have used this water on many occasions with zero complaint. Local residents have been using this historic town spring for over a century. Every visit to this spring there has been others filling up. I've read that 6 families draw their daily water from the source pipe. The water is tested on occasion so I've heard. Not much online is available other than this local newspaper article.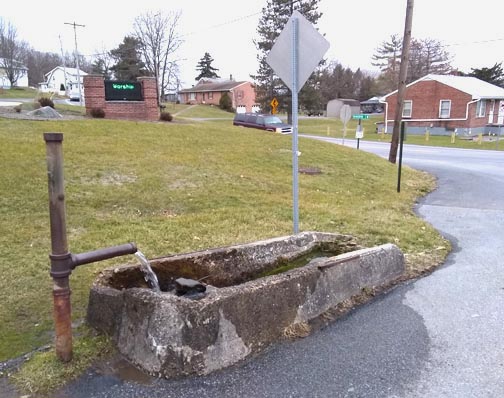 Berkeley Springs, WV
2 South Washington St., Berkeley Springs WV
(lightly chlorinated)
Berkely Springs clains to be the nations first Spa...! You'll even find George Washington's outdoor bathtub when you visit... how cool is that. I didn't make it to Berkeley Springs so no current photo... but the entire town is a tourist destination and you can find plenty online to read up on. The water is next to one of the town's streets and easy to reach. With promises to shut down the spring due to contaminants the town now lightly chlorinates the water. Rumor is that the locals have a spot near by that they fill up that is straight from the source... take this info at your own risk.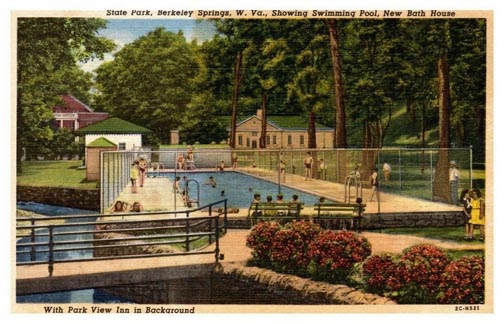 Interesting side note... The 30th Annual Berkeley Springs International Water Tasting is February 20-23, 2020

Did You Know... 75% of Americans are chronically dehydrated. A mere 2% drop in body water can trigger fuzzy short-term memory, trouble with basic math and difficulty focusing on the computer screen and/or on a printed page
97% of the Earth's water is salt water and over 2% is polluted or part of the ice cap, leaving less than 2% available for human use.
LEGAL NOTE: All info on this page is presented to use at your own risk. Ultimately, it is up to each individual person to weigh the risks personally and to decide for themselves whether or not to drink the water from any particular wild spring.
One last thing to sleep on: Water composes about 75 percent of muscle tissue and about 10 percent of fatty tissue.
But more importantly, water regulates body temperature, aids digestion, protects vital organs, cushions joints, facilitates cellular communication, transports nutrients to the cells, and removes waste, including lactic acid (the primary cause of exercise-related muscle soreness). So go drink some water...!!!